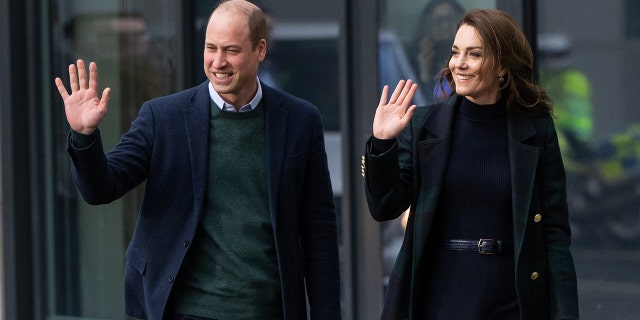 The fact that Prince Harry's explosive memoir, "Spare," contains allegations against King Charles III, Prince William, and Princess Kate Middleton is hard to guess from their expressions.
On Thursday, they went to the Royal Liverpool University Hospital in Merseyside. There, they walked side by side and waved to their adoring fans.
The royal couple's Twitter account said that their most recent visit was a chance to "thank NHS staff for their hard work and dedication."
Outside of Royal Liverpool University Hospital, Prince William and Princess Kate greet fans.
(Samir Hussein/WireImage) PRINCE HARRY TALKS KING AND CHARLES PATERNITY STORIES IN NEW BOOK "SPARE" The hospital posted pictures of the couple visiting the critical care unit on social media.
The Prince and Princess of Wales visited the Open Door Charity outside of Liverpool, where they met in the "Mentor Room.
The mental health of young adults is the primary focus of the charity.
Prince William and Princess Kate visited the Open Door Charity in Birkenhead.
He went to Mid Deeside and Aboyne's shared Community Shed.
The king "met locals, including older people and young families, who use the shed as a meeting place," according to The Royal Family's Twitter account.
(Andrew Milligan/Pool/AFP) Prince Harry wrote about his grief after his mother, Princess Diana, died in his memoir.
Public by world news spot live