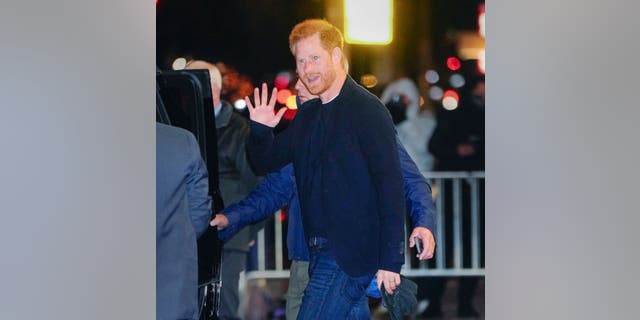 On Tuesday night, Prince Harry appeared on Stephen Colbert's "The Late Show" to talk about the worldwide release of his memoir "Spare."
After conducting a number of interviews prior to the explosive book's highly anticipated release, the Duke of Sussex joined the late-night host. Harry criticized the "dangerous" behavior of the British press for a significant portion of the interview.
Dealing with leaks of his debut memoir, particularly from the British press, Prince Harry described the past few days as "hurtful" and "challenging." He said that the media outlets deliberately took his words out of context to hurt him and make "salacious headlines."
On January 9, 2023, Prince Harry, Duke of Sussex, can be seen departing "The Late Show With Stephen Colbert" in New York City.
Prince Harry accused the British press of attempting to harm him in an area of his life that is one of the most important to him, describing his time in the military as a time when he found refuge and his life's purpose.
Harry said of his alleged 25 Taliban kills, "If I heard anyone boasting about that kind of thing, I would be angry, but it's a lie." He added that "context is everything" and that the spin on his words is "very dangerous."
Harry said he had "never seen the level of abuse and harassment" that he witnessed with his wife, continuing his criticism of England's media outlets and acknowledging the former obsession with his late mother, Princess Diana.
Public by world news spot live