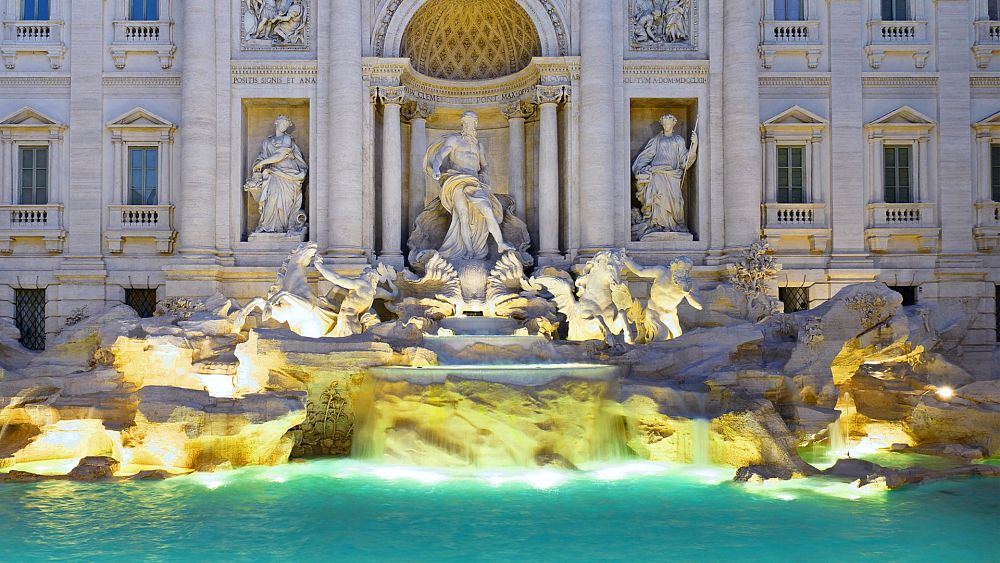 You've probably tossed a coin into the Trevi fountain if you've been to Rome.
The impressive 18th-century monument's water contains over €1 million annually.
However, where is all of this money going?
The windfall, which is collected every few months by a dedicated team, has been going toward a very good cause for more than a decade.
What is the purpose of coining the Trevi Fountain?
One of Rome's most famous landmarks, the Trevi Fountain was constructed between 1732 and 1762. It was created by Nicola Salvi and symbolizes water control.
Oceanus, the river god, rides a shell chariot that is pulled by sea horses in front of a massive facade that is made of huge Corinthian pilasters.
The two creatures, one docile and the other wild-breathing represent the divergent personalities of the sea.
Tourists traditionally throw a coin into the water with their right hand while standing with their backs to the monument.
The 1954 film "Three Coins in the Fountain" made the ritual famous, which is supposed to guarantee the visitor's return to the Eternal City.
What amount of money is put into the Trevi Fountain?
The Trevi Fountain receives around €3,000 in loose change each day.
That amounts to approximately €1.5 million being thrown into its waters annually.
How is the money that is thrown into the Trevi Fountain used?
The city sends a team to collect the fortune a few times a year.
After sweeping the coins into piles with brushes attached to the ends of long poles, the workers extract the cash from the water with a suction hose.
After that, the coins are stored in bags while the police keep an eye on them.
The mayor decided in 2001 that the funds should be donated to a local charity to stop people from frequently trying to steal coins from the fountain.
Since then, the Catholic charity Caritas in Rome has received each year the loose change that ends up in the fountain.
The charity has benefited greatly from this, and the sum now accounts for 15% of its annual budget.
The money is used to assist the needy and poor in the city. It provides funding for projects such as free supermarkets, homeless shelters, and soup kitchens.
It also helps keep a complex outside of Rome that houses a nursing home, a canteen, and a dentist for poor city residents.
Publish by World News Spot